We have some awesome feathered friends staying here with us at Jimmy's Farm & Wildlife Park. On a visit you can see all our birds up close, our Keepers can tell you all about them and, in some cases, you can feed them!
Greylag Geese
The ancestor of most domestic geese, the Greylag is the largest and bulkiest of all the native wild geese in the UK. They range throughout Great Britain and even migrate here from Iceland to winter in our "warmer" climate.
Red Breasted Geese
The red breasted goose is a charming little bird with a loud piercing call. It ranges from Siberia in summer to Eastern Europe in the winter. They are listed as "vulnerable to extinction", and we aim to help with their conservation by breeding them at Jimmy's Farm & Wildlife Park.
Mandarin Ducks
Tiny and stunningly beautiful, mandarin ducks have suffered from habitat destruction and there are now fewer than 1000 pairs in native China, though much more common in Japan and the UK. The flamboyant males lose their bright plumage following breeding season and they resemble the grey females for the summer months of the year. Come and see these comical guys in our tropical house.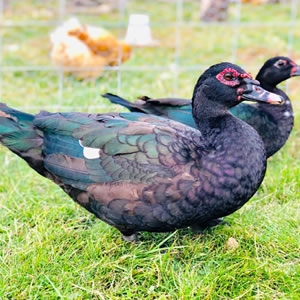 Muscovy Duck
A large duck native to Central & South America. Muscovy ducks maybe a tropical bird, but they adapt well to cooler habitats, although their favourite food item of mosquitos aren't as common in Suffolk! The male's face is covered in fleshy lumps and they have a low, breathy call.
Laughing Kookaburra
The largest member of the kingfisher family, Laughing Kookaburras originate from Australia, and are particularly known for their peculiar "laughing" song. Our pair, Karl & Susan, make a real racket when they get excited which can be heard across the park. They are being trained to fly to the hand and will be used in displays.
Black Swan
Black swans are herbivores and feed on aquatic plants. The male black swan tends to spend more time on the nest than a female. They both share
responsibility of looking after cygnets.
Indian Peafowl
Peafowl are a very ornate type of pheasant. Originating from India, they're most well known for their stunning tail feathers and their displays to attract a mate. Our males will display to anything throughout the warmer months…even a fence post! Our peahen loves to pose in a mirror.