As one of our best know farmers, Jimmy is a regular on our TV screens with his passions for farming, wildlife and the wonderful British countryside
FARMER, TV PRESENTER, CONSERVATIONIST & SO MUCH MORE
Jimmy the entomologist
Born in Essex, Jimmy's passion for all things natural led him to pursue a degree in zoology and a PHD in ecological entomology.
However, his dreams were beyond the microscope, with a vision of producing his own food and being self-sufficient… a dream born out of a childhood helping out on a small holding with cows and sheep.
After spending six months, travelling the length and breadth of the UK, Jimmy found what he was looking for, a farm with potential.
The farm, based just outside Ipswich was a place lost in time – an old dairy farm that had stood empty for nearly 50 years.
Totally derelict and overgrown it may have been, but it was the beginning of an exciting adventure.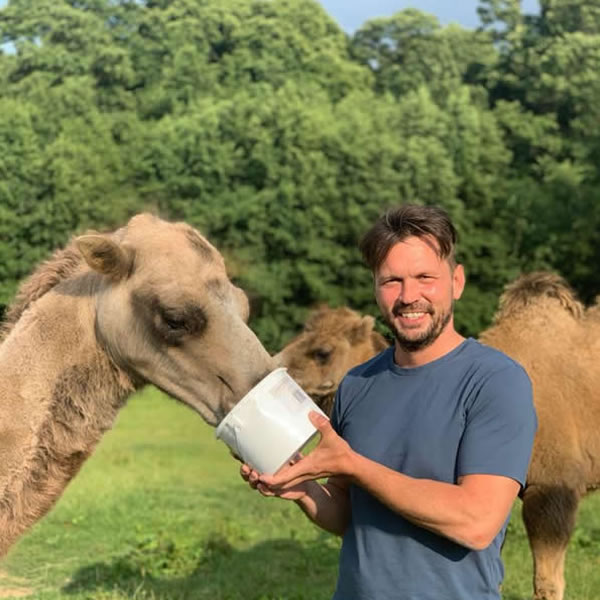 Jimmy the farmer
The Essex Pig company was born with the vision of using traditional, free-range meat production practices rearing British rare-breeds.
The first six months was a relentless process of clearing the site, a test of physical labour and endurance, but the farm and farm shop took shape.
Slowly it grew with a team of butchers and workers that maintained some of the best livestock and produce in the country. Our own farm-cured bacon, sausages and pork joints – all from our own herd of rare-breed pigs – were a reality.
After years of hard work, the working farm, farm shop and butchery, are now also home to a Wildlife Park, Restaurant, vegetable and flower gardens, and clothing, gift & craft shops.
Sustainable farming and quality meat and food production remains at the heart of everything at Jimmy's Farm.
Jimmy the conservationist
After many years breeding rare breeds, Jimmy became the President of the Rare Breeds Survival Trust in 2016, becoming their youngest President to date.
We are proud to be a member of the RBST, whose mission is to ensure we do not lose the diversity of our native breeds.
They do this through a programme of monitoring, saving and promoting the breeding & registration of rare and native breeds.
The Wildlife Park, which has zoo status, takes the same considered approach to conversation with rare and endangered animals staying with us.
In 2020, shared his life long passion for insects in the Big Bee Rescue on Channel 4… aiming to inspire protection of the nations bee population.
Jimmy the TV presenter
Jimmy first came to national TV attention via the fly on the wall TV series, Jimmys Farm. Airing on BBC as far back as 2004, the series followed farm life and the events unfolding on the farm. Follow up series followed on BBC and with Channel 4, the recent series including:
Food unwrapped – This series investigates food production and gives a unique insight into how our food is really made.
Builds on Wheels – Following campervan conversions with co-presenter Jimmy DeVille whilst Jimmy embarks on a hug project; building his ultimate campervan.
Jamie and Jimmy's Friday Night Feast – Jimmy, with lifelong pal Jamie, set about cook up delicious meals in a pop-up restaurant on Southend's pier. Each week a guest joins them to have a laugh, help cook the meal but more importantly, taste it!
Big Bee Rescue – with the help of insect enthusiasts, scientists, and Channel 4 viewers, staged incredible experiments and eye-catching events to highlight the ways the vital insect population can be revived across Britain. His work continues and his inspired many people to care for bees across the nation.